Materiality analysis
The materiality analysis supports the Board of Directors of BB Biotech AG to identify key sustainability issues by considering the expectations and needs of external and internal stakeholders. Results are used to continuously improve the sustainability management. The materiality matrix forms the basis for managing corporate processes and helps to identify and manage potential opportunities and risks.
Methodology
In order to develop the materiality assessment, BB Biotech considers the needs and expectations of the following stakeholders:
Shareholders (professional and retail investors)

Portfolio companies

Employees of Bellevue Asset Management

Stakeholders of the healthcare systems
The ESG analysis team at the investment manager, has mapped out the firm's direct stakeholders and the channels through which the firm engages with each group and feedback about sustainability issues was collected from each stakeholder group. Based on this information, topics for the materiality assessment have been identified. In addition, the topics to the degree to which the Board of Directors of BB Biotech AG and Bellevue Asset Management has control over have been evaluated.
The materiality assessment was performed for BB Biotech AG (Board of Director level), the investment manager Bellevue Asset Management AG and at BB Biotech's portfolio level.
BB Biotech AG's materiality topics 2021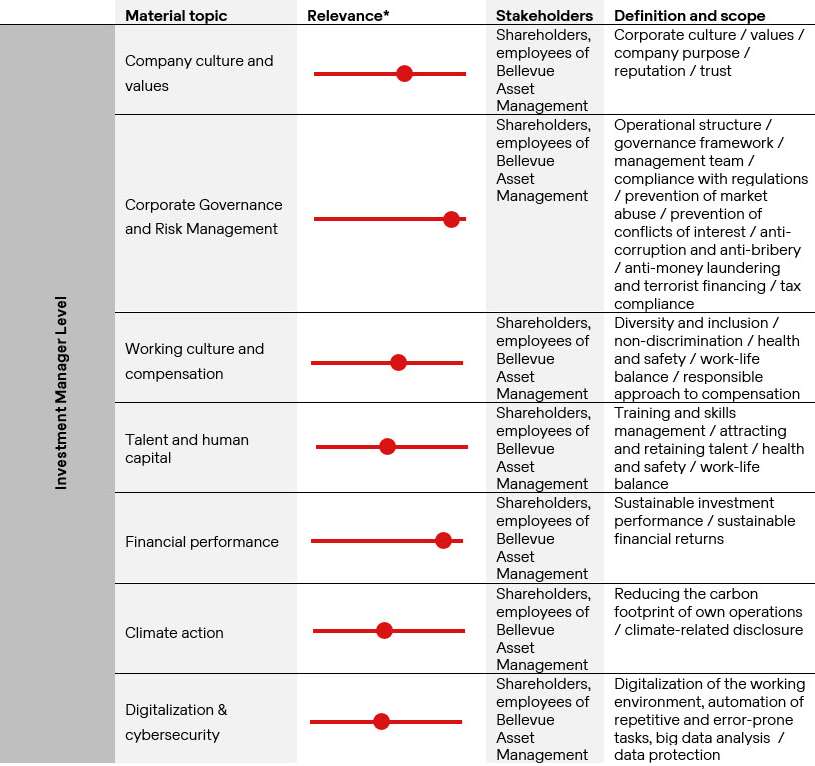 * Relevance: on a scale from 1–10; 1 being the least relevant and 10 the most relevant